HydroTek Product Brochures - HydroTek Hot Water Pressure Washers
Proudly supplying the provinces of British Columbia, Alberta, Saskatchewan, Manitoba, Ontario, and Quebec, Montana, North Dakota, Washington State, Idaho: including Calgary, Airdrie, Okotoks, High River, Strathmore, Drumheller, Red Deer, Lethbridge, Medicine Hat, Canmore, Banff, Cochrane, Brooks, Taber, Stettler, Grande Prairie, Fort McMurray, Drayton Valley, Leduc, Nisku, Edmonton, Lloydminster, Fort St John, Fort Nelson;Saskatoon, Regina, Estevan and everywhere in between
We supply Hydrotek Hot Water and Cold Water Presssure Washers, Hydrotek Power Washers, Vacuum and Water Recovery Systems.
We are always available to help you and our experience with Hydrotek in Alberta is second to none.
Let us help you find the right piece of equipment to meet your needs today.
Contact
us for more information and a personalized quote.
When you have a sticky, greasy, or oily mess to clean up, you need the power of hot water. Some of our hot water pressure washers can produce hot water or steam at up to 250 degrees, enabling you to melt away greasy residue without detergents and chemical cleaners. No chemicals means fewer environmental disposal and recycling issues.
Hydro Tek hot water pressure washers deliver exceptional performance and durability in any application thanks to stainless steel construction and Spiralast™ heating coils. Manufacturing of these coils is done in Hydro Tek's Redlands CA facility using a proprietary cold rolled process and robotic welds. This allows us to create a high-performance coil with a higher bend radius for improved strength, reduced flow restriction, and higher energy efficiency. Our Spiralast™ coils are the only heating coils in the industry protected by a lifetime warranty.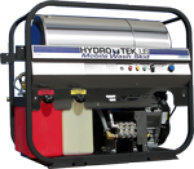 SS Series: Mobile Wash Skids - Compact,
Gas Powered, Diesel Heated
HD Series: Compact, Portable,
Electric Powered, Diesel Heated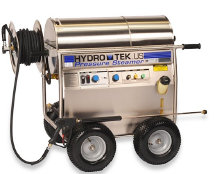 SC Series: Mobile Wash Skids - Self-Contained,
Gas Powered, Diesel Heated
HP Series: Hot Water Pressure Washer - Portable Electric, Diesel Heated with Exceptional Heat Output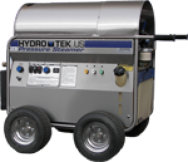 SC-X Series : Diesel Powered, Diesel Heated for Extreme Duty
HN Series: Stationary, Electric Powered, Natural Gas, LP or Diesel Heated
SM Series: Compact, Portable, Gas Powered, Diesel Heated